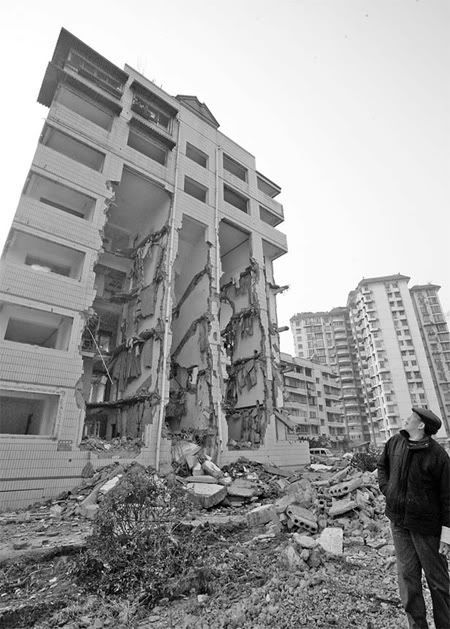 Government departments in Mianyang city, Sichuan province, are investigating the forced demolition of a residential building netizens have dubbed "a castle in the sky".

Photos of the building, which had its lower stairways removed by the demolition crew - making it looked like apartments were floating - quickly spread on the Internet.

The building is the fifth of seven in the Huayi residential quarter in downtown Mianyang.

After workers hired by the Mianyang Yachuan Real Estate Company began to demolish the building on Dec 31, Zhao Yanhong, a resident living on the top seventh floor, showed up and tried to stop the crew.

Despite preventing the demolition, she found her apartment was unreachable because all stairways from the ground to the fifth floor had already been torn out.

Zhao said she had not clinched an agreement with the real estate company before the demolition because she was "not satisfied with the terms of compensation".

Like other residents in the quarter, her family was offered an apartment 20 percent larger at the original site plus a home decoration subsidy of 10,000 yuan ($1,500).

But that "area" takes into account a portion of public spaces like hallways and elevators.

"The actual area inside the apartments would be smaller than that of our present apartments," she said.

The Mianyang Yachuan Real Estate Company said it got approval from representatives of all owners as well as the city's construction authority to rebuild apartments for the owners after the Sichuan earthquake in 2008 severely damaged two of the buildings.

But Zhao said many residents refused to move and some had even been beaten.

Bao Bin, a local resident, was quoted by The Beijing News saying he was beaten by six people on the evening of Dec 29 when he tried to stop the demolition.

He had just been discharged from hospital after treatment for a concussion, he said.

On Jan 4 the Mianyang city government set up an investigation team consisting of the city's urban planning, construction and house management departments.

Liao Ming, deputy mayor of Mianyang, said the government was not involved in the forcible demolition.

He pledged to mete out severe penalties to the real estate company if the investigation team finds it violated the law.

Police will also step in to probe the beatings, he said.

The country is drafting a new law to address the increasing number of disputes over demolitions in urban areas.

According to the second draft of the Ordinance on the Requisition and Compensation of Buildings on State-owned Land, local governments will not be allowed to use their administrative rights to forcibly demolish citizens' properties, and forced home demolitions must go through the courts.

The new draft also prohibits any organization or individual from using violence, threats or other illegal acts, such as cutting off water, electricity and access to transportation, to force residents to move.

Opinions on the draft law were solicited for the second time at the end of last year.